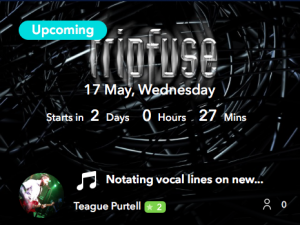 So as you may know from the last post a lot of changes have been happening in my life. I currently don't really have a job or much in the way of income coming in. Oh oh. Lol. But I have hope

However my savings won't last much longer so I need to get more focused then I have ever been in my entire life. I don't want to keep playing covers. I really don't. I said that when I moved to Vancouver 10 years ago (I know, nuts) and yet somehow I ended up playing over 900 nights on the Roxy stage playing covers. Somewhere in the 37,000 song range played on that stage. What is crazier is that for Reggie you can double those numbers. That is a lot of nights and a LOT of songs!
And many of you know I own musiclearning.com where most of my focus has been these last bunch of weeks. But interestingly enough I got sidetracked a bit towards tripfuse and writing and that has been thanks to Donna Bee and her showing me a site called pocket live.tv
I thought I would try streaming on it but since I stream lessons on youtube I thought I should do something other then lessons. And what happened I started writing. Like really writing. Focused, driven and it has been fun! I was writing away the other day before I realized 104 people were watching me write and the support has been amazing!
So here is to the future and new tripfuse songs and fingers crossed live shows. Oh that sounds so great, tripfuse live with improvising. Oh how I miss improvising on stage. I gotta make it happen. But I am going to be reaching out for support. So stayed tuned